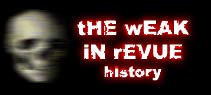 The story behind this award winning show is long and twisted. It can only partially be told here.

Leo and Matt, along with various others-their friends Elahu, Elliot, Phil, etc, began a show in 1998. It was called "The Saturday Morning Show," and was quickly kicked off after 2 episodes. The next show moved to a later time slot and therefore lasted slightly longer before it too was removed from the airwaves due to offensive material. It was known simply as "Hot Damn, It's the Super Rodent's 11th Hour."

They finally hit on the right equation during summer of 1999 with The Weak in Revue. The original cast moved around quite a bit, until the current formula was discovered in November of 1999, with the addition of Wells as Matt's left-hand man. It has remained a mainly 3-man operation (with the help of a constantly growing base of cast and crew) to this day. Since then there have been over 90 new skits, numerous interesting special guests, and topics of discussion. The show has been around for over 100 episodes. These are obviously the movements of gods.

Wells left the show after 4 years under his belt. A new host, Nate, has replaced him. He brings a different style to the show.

The show can be seen Tuesday nights at 10:30 pm when it airs on Athens Public Access 23.