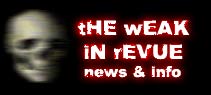 Information:
11:00pm-12:00am Tuesday Nights.
Channel 23, Athens Public Access.
592-3560
Over 100 shows
Combined excess of 10 years experience at Public Access.
Over 90 original skits
In excess of 105 hours of accumulated goods.
A cast that has measured in at more than 50 people.

Updates/News:
11/14/00--We have just hit the 50th episode mark.
11/00--Appeared in Thrasher (Nov. 2000, Issue 238, pg 10).
12/00--This is the new, improved website.
12/00--No new shows until the end of break. (1/2/01 or 1/9/0; next show).
1/1/01--Ezra will be an upcoming special guest with what he promises is a rad video.
1/7/01--Local Bands the Meshback Hats and Das Guzzmans may appear at some point. Also: Jarred-who has appeared before, and of Big Dork Magazine fame-and his friends from home promised us some sweet footage (may be about a squirrel).
1/29/01--Ezra tells us he has another music video for us to show, sometime in the future.
1/29/01--Starting 1/30 there will be a new show segment involvingsmoking that we will have a weekly installment of.
2/3/01--The Das Guzzmans will probably be appearing Tuesday the 6th in a live music extravaganza.
2/5/01--A friend of ours, Neil, is going bring us a video any time now that involves bushes.
2/5/01--Another friend, Quinn, tells me that he, Vince, and Brandon are working on some video mayhem to be aired on an upcoming show.
3/5/01--Just a note that we probably won't be having a show the week of spring break (3/20) or the week before that (3/13).
3/13/01--There is a new compilation of old stuff out there so look out for it ("Compilation #3: Dead Squirrel Corpses).
3/25/01--Over break Jarred supposedly was doing some wrestling stuff with his friends...he may bring that up at some point.
5/2/01--We may have a 4 minute video in the film fest Access section Thursday night at 7 (5/3).
5/30/01--Next week is the finale show of the year...watch it fuckers.
5/30/01--This summer watch out for some new compilation videos.
6/7/01--No new episodes for 3 months. Next show in September. Next week will be the best comp.
6/18/01--Look forward to this page getting a new look for next year.
7/3/01--The Weak in Revue may be appearing in Berkley, CA thanks to our friend Ruben (the video will include some classics-about 8 of them, and some good music).
7/8/01--Leo, Matt, and several associates met Bruce Campbell in St. Louis, look forward to pictures here, and video footage on the next show.
7/25/01--As soon as possible there will be new pictures (Bruce) and hopefully some video clips added for your viewing pleasure.
8/20/01--Next show will be 9/4...look out for Bruce, Westerns, and general the vileness you've come to expect.
10/10/01--The show has been threatened with a lawsuit concerning the 10-9 show and slander from the mouths of callers. It has been placed under 30 days suspension. The show will continue to air. Check back for more later.
10/17/01--We are in "negotiations" to get Athens' rockers, We March to play the 10-23 or 10-30show. A return to live music?
11/14/01--the Weak will most likely be going on break during the upcoming month(s) until school starts back up again.
3/27/02--April 1st will be the first day of prank week
10/3/02--We have been approached by WOUB to move our show to their station, have the ever even seen it?
10/3/02--the 8th will mark our 100 episode mark...the show should be pretty rocking with live music, give aways, best of clips, cake etc...
1/2/03--plans are in the work for an ultra top secret project...stay tuned
3/13/03--The Movie Geek appeared on our show, and we were featured on the front page of the Post (unrelated).
3/19/03--Matt has a stalker...she keeps emailing us.
6/4/03--No new shows until next school year...have a good summer.
9/8/03--The Weak in Revue has a new timeslot 10:30, still on Tuesday
9/13/03--Wells has left the show, and we cried when he left.
10/15/03--Wells says he likes Nate as a co-host, so there's no hard feelings.
10/15/03--There's some new policy at access, so we have to screen calls...and mature content now starts at 11pm, so we may have to move the time till then, keep checking for more updates...
10/22/03--The new time to watch the show is 11pm-12am Tuesdays.
11/13/03--This past tuesday (11/11) was the last show of the quarter. New shows will start in January.
3/9/04--today was the 140th show: thanks for watching jerks
3/10/04--No new shows until 3/30 (after spring break)
5/26/04--The end of the year brings the end of the show. Check out the 150th show spectacular June 1st and the last show ever on June 8th.
Mail The Weak in Revue if you have some sort of talent, a video, want to make an appearance, or just want to talk...if you want on the mailing list...say so.