Tuesday Night 11pm-12am

Athens Cable Access 23

as seen in THRASHER
Most Recent Updates(6/3):Show Archive--skits list update--A picture of Nate--King Duck Productions
The Weak in Revue, the television show that dares to go were no other show will go. This show gives a little bit back to the community by way of cunning and often brutal satire of life, the universe, and everything...
You will view sketches and movies created by talented Athens-area moviemakers...as well as the critically acclaimed call-in segment of the show (that's right its recorded "Live" every Tuesday night)...and the occasional special guest. It is broadcasted live on Athens Cable Public Access.
As of August 2001 there is a mailing list. If you want on to receive the latest news, rumors, etc on The Weak in Revue via email, make use of the contact link in the left frame. Make sure to say you want on in your message to us, you won't regret it.
Sometimes amusing, sometimes witty, always controversial.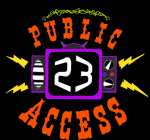 Remember always: "The chief enemy of creativity is good taste."